Have Your Wedding Shoes Dyed to Match Your Wedding Dress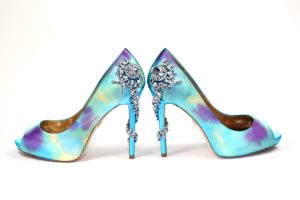 The Dyeable Shoe Store carries hundreds of different styles of women's fashionable bridal shoes including designer Wedding Shoes that can be Custom Dyed to match your wedding gown.
See our entire Shoe Product Catalog
Check out our great selection of dyeable wedding shoes by such leading shoe designers as Coloriffics, Touch Ups, Nina, Dyeables, Colorful Creations, Benjamin Adams, Alisha Hill, Grace and Liz Rene Couture.
Most of our designer wedding shoes come in dyeable ivory or white and are available in narrow or wide widths. The following styles of dyeable wedding shoes can be dyed to match your gown and/or handbag.
We also carry a great selection of Lucite (Clear) Shoes plus Handbags that can be custom dyed to match your wedding shoes and gown.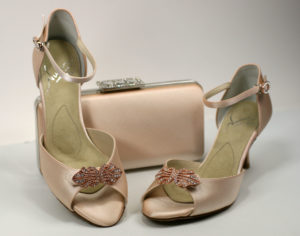 Our master dyer has over 20 years experience. If you cannot find a local bridal salon (or shoe repair shop) to have your dyeable wedding shoes dyed to match your bridal gown, call us Toll Free 1-888-DYE-ABLE (393-2253) between the hours of 10-5 pm (eastern standard time).
Please call or send us an Email regarding your custom dye order. When dyeable wedding shoes are properly dyed to match your dress, your shoes will make a beautiful accessory on your very special day.
Wedding shoes can be dyed to match for the entire bridal party creating a consistent color theme between your flower girl, bridesmaids and trainbearer. Dyeing wedding shoes to match is an art and requires the personal and professional attention that we are renowned for. Our dye is custom mixed.
For more information about custom dyeing wedding shoes (or handbags) to match your wedding gown please call the Dyeable Shoe Store Toll Free at 1-888-DYE-ABLE (393-2253) or E-Mail Us.